The project:
4 Egyptian-style men's skirts made from terrycloth; costumes for the entourage of a Lady Gaga impersonator
Having only tried the skimpy little men's skirt on a plastic dress form that is not going to have to walk in it, I felt it necessary to test it on a live model. At my age, I am realizing, it starts getting harder to dig up a guy with a 30-34″ waist on a moment's notice without having to think really hard.
Luckily, one of my cohorts who does a lot of the non-sewing end of various productions was working downtown and could drop by to try on the prototype.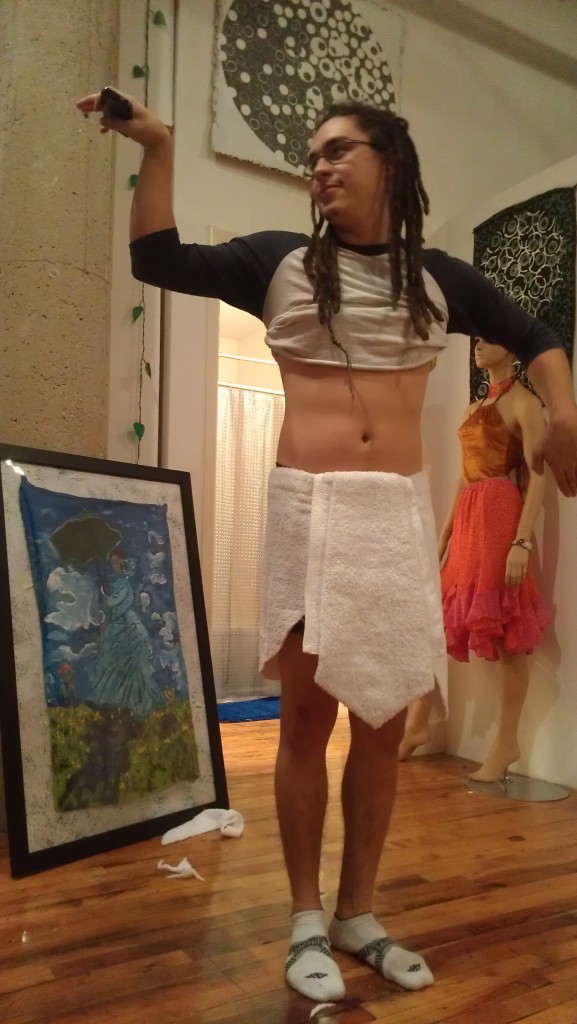 The catch to this project was this: we had no idea who the guys were, just that they would be bodybuilders. Our best guess was that they would be shaped approximately like Launchpad McQuack, with shoulders out to here and no waist to speak of. We guessed 30″-34″ish. As the prototype was a little tight on Carlos, I figured I'd make the next three several inches bigger, then bring my sewing machines and be prepared to take them in.
When I arrived on location, I wandered in the basement for a bit before finding the crew, and came across this door: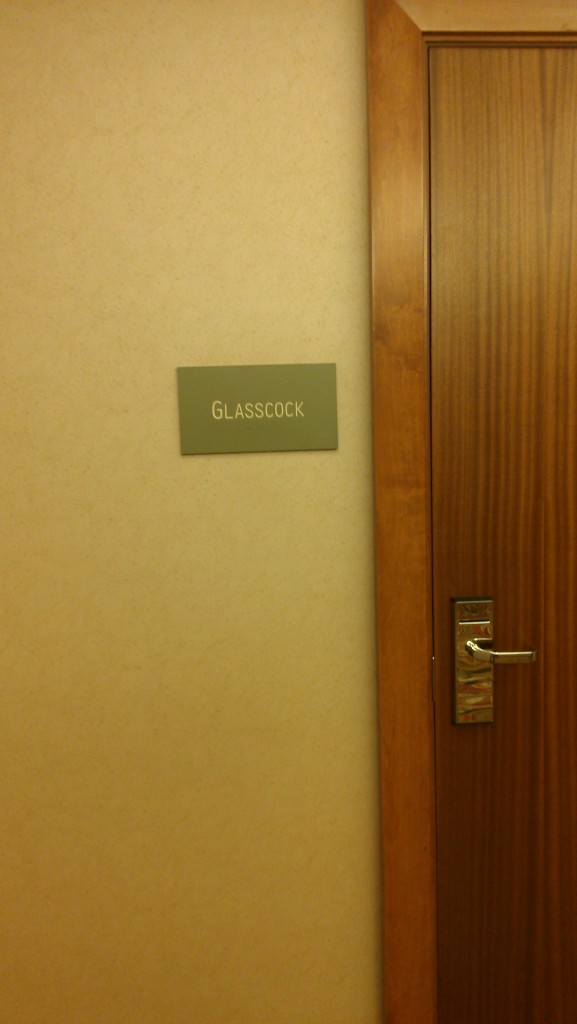 Seriously, guys? Really?
The small outfit works great on The Littlest Bodybuilder. I thought that would be a great name for a musical; I kept thinking of "The Littlest Christmas Tree" from 1st grade when I did NOT get to play a Christmas tree. He wasn't actually little; just the only one shaped much like the Launchpad McQuacks that had danced in our heads.
The next two weren't great fits, and one of them was just a little too small, but they weren't bad. I figured some pins would probably make it work. Then the fourth guy shows up. He's not the littlest bodybuilder.
I was able to stick the costume on him for the dress rehearsal thanks to my ingenious multi-size elastic button loops, but as you can see from the picture below, that wasn't going to work for the show. I didn't have any extra whole towels, and there wouldn't have been enough fabric between the decorative end thingies anyway. (Yes, that's the technical term.)
The shirts and white boxer shorts are for the dress rehearsal. Can you spot the costumes that don't fit?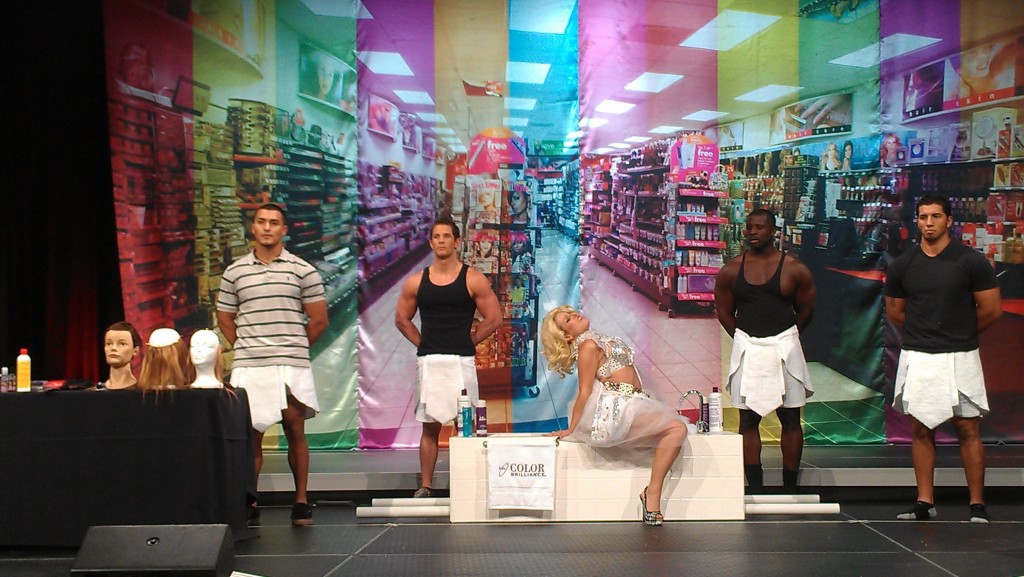 Good! I knew you could!
I had brought the scrap terrycloth more as padding for transporting my sewing machines than anything else. Once I collected all the costumes–except, ironically enough, for the prototype, which fit perfectly–I set up my sewing machines.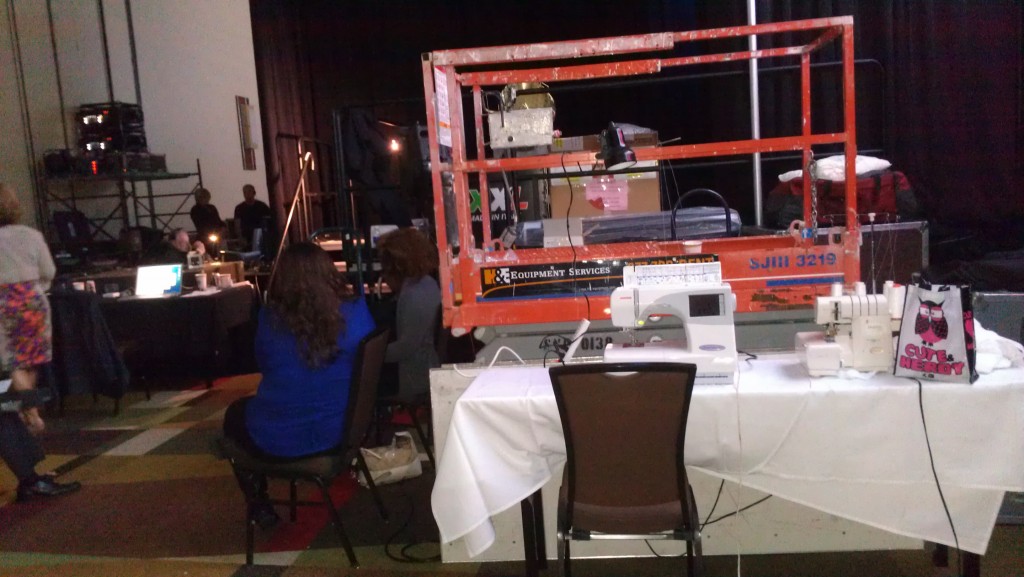 I added a cornucopia-shaped panel, as well as multiple buttons so that it wouldn't have to be exact. This plan hadn't occurred to me before the event, because I thought it would be too pieced-together looking. Once I saw the scale of the event and the dim lighting, it seemed it would be fine; and once I'd done one, it actually didn't show up much even close-up and in good light.
Some makeup stains or something had gotten on one skirt, so I went ahead and zigzag stitched some tiny scraps on top of the marks because it blended in so well.
I had used contrasting-colored velcro anywhere that it was definitely not going to show, thinking it would be nice to have very-visible closures while I was working so close to strangers' junk.
The inside of the front panel, all done in beige: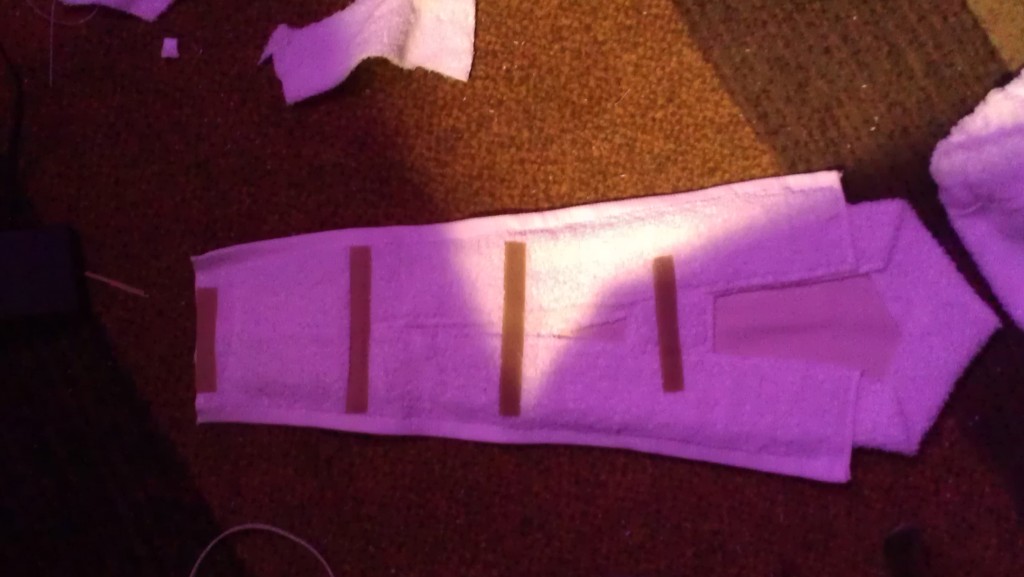 Turns out, that wasn't necessary; there is no room in these costumes to be looking at stuff. Let's leave it at that.
So I get everyone dressed, and since it's going to be awhile, I leave off pinning til later. I'm sitting around waiting, start realizing I'm getting hungry. Then realize that everyone else had gone to lunch while I was sewing; I had been so uncertain about how long it would take to fix and how long we had until the Lady Gaga number that I had done the repairs right away.
I wandered into the service hallway, hoping they hadn't thrown everything away. Some used-looking food seemed promising: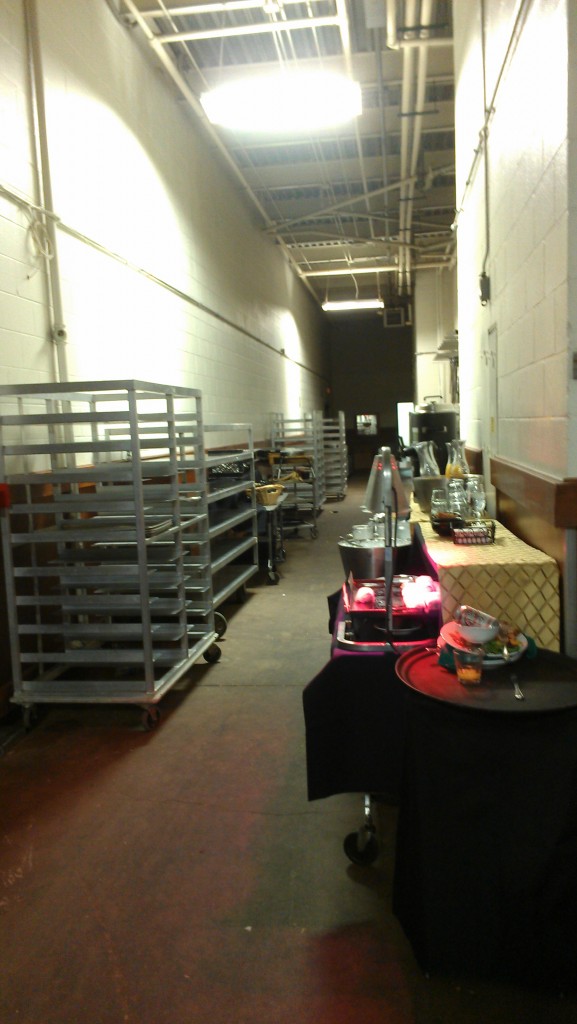 No sign of lunch, but there was quite a bit of continental breakfast left.
Oranges, melons, mixed-filling danishes, grapefruit juice, coffee! Muffins, too, but I'm often wary of muffins. Don't know why; always have been.
Score!:
Head back the way I came . . . the door I'd left through had locked behind me. All the other doors went straight to the event. I finally walked out through the middle of the food-staff people having a meeting in a kitcheny-looking area, trying to look like I belonged there and knew where I was going.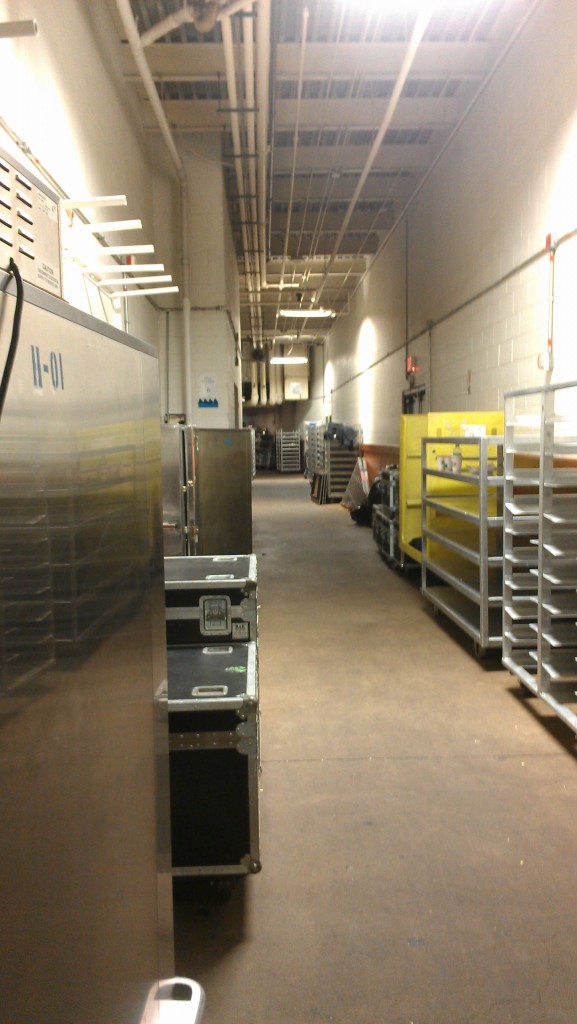 I straightened out everyone's flaps and got the sides pinned in in place.
Lady Gaga kept everyone entertained while we waited.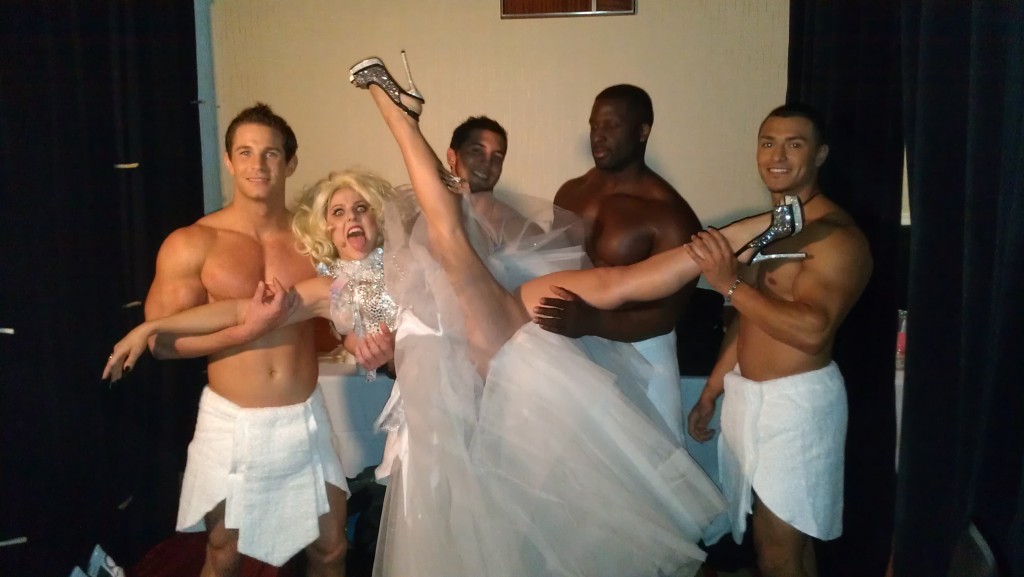 Me and Gaga: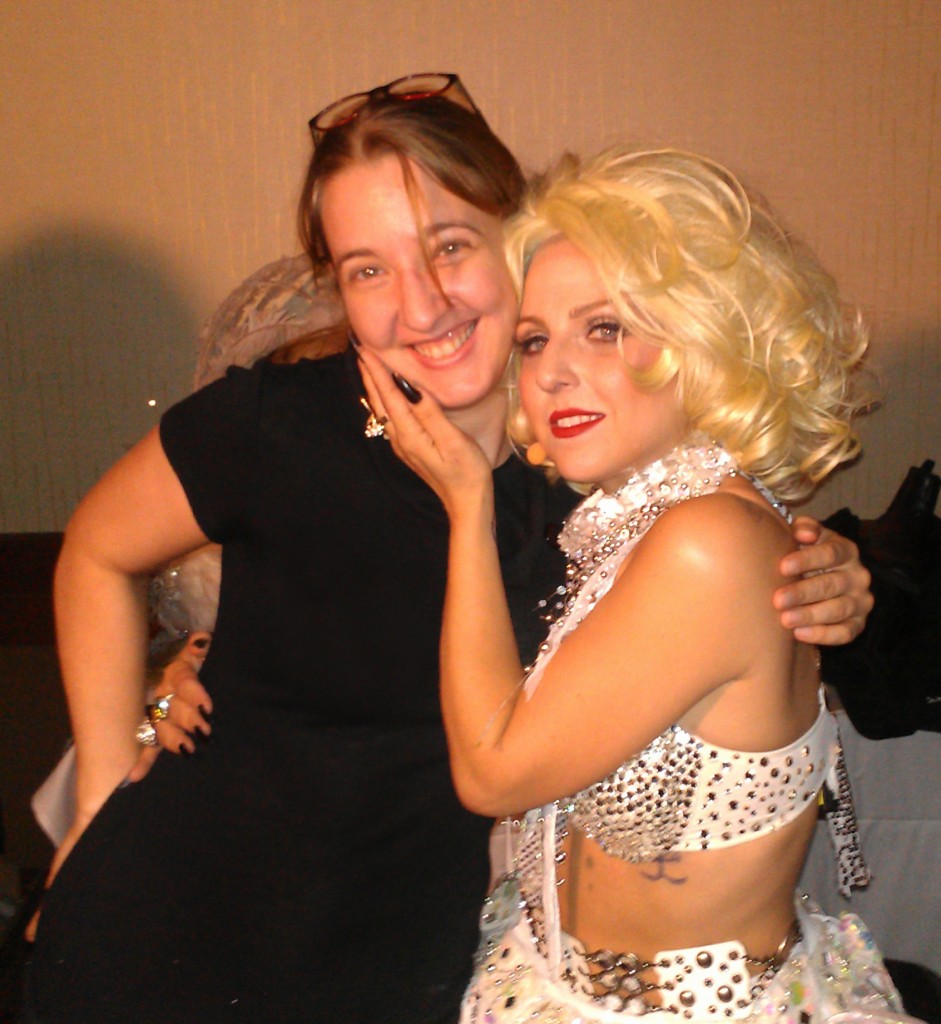 There were a lot of great shots, but the lighting was pretty much impossible. Here, you can see the two matching bags in the reflection. They're hanging out not in their shopping bag costumes, but I still like calling them bags, as they aren't girls who are likely to get called that very much: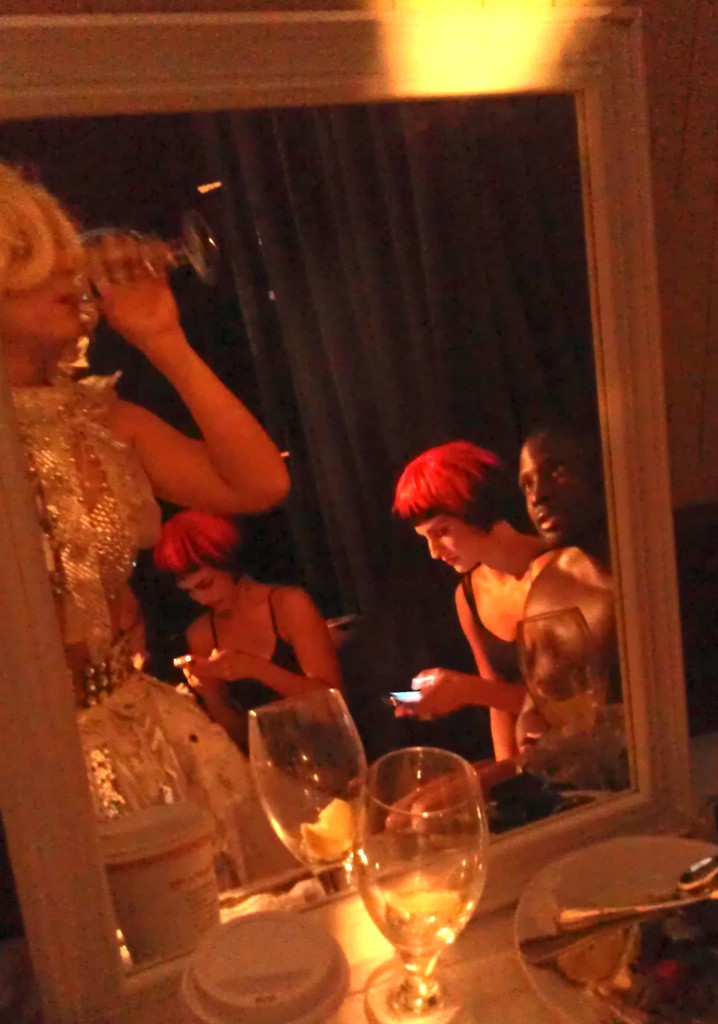 The entourage asked them, "Wait, which one of you is the blonde? . . . You could have reintroduced yourselves as different people and we wouldn't have known." The one on the left was then renamed Veronica. I think.
Standing in the lobby, waiting for the musical cue: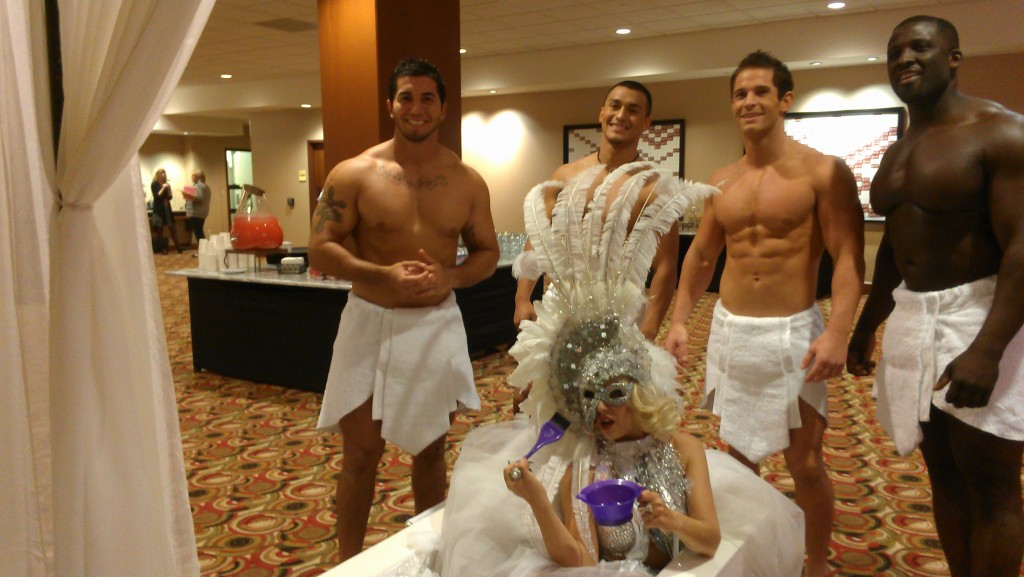 Here is the bathtub, designed by Carlos (a different one than the previously pictured), and the hand towels I had previously narrowed. When given the task, I had thought it sounded unnecessarily specific, but whatever. It becomes clear now why they needed to be no wider than 14″.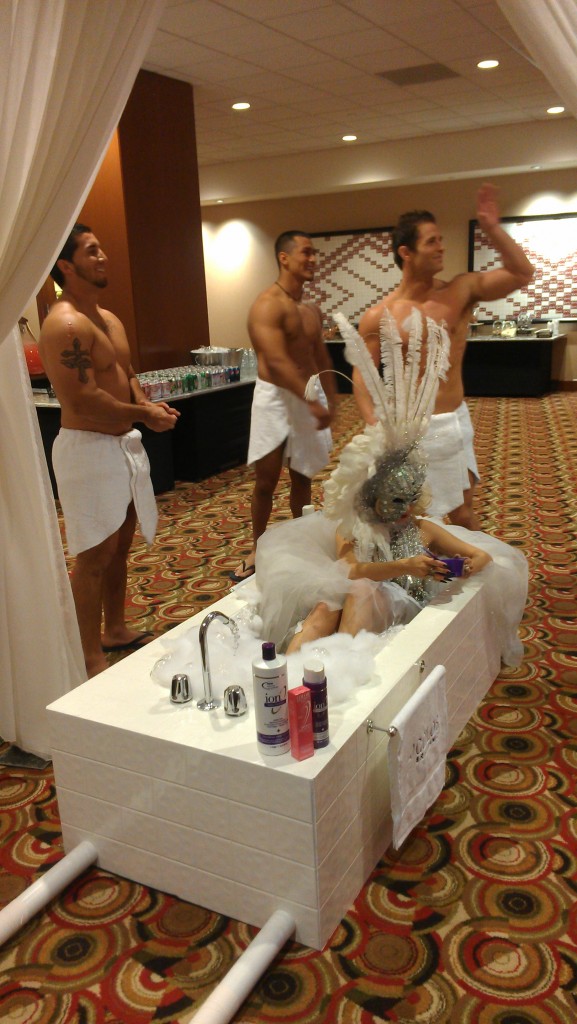 A close-up of Carlos's solution for permanent bubbles: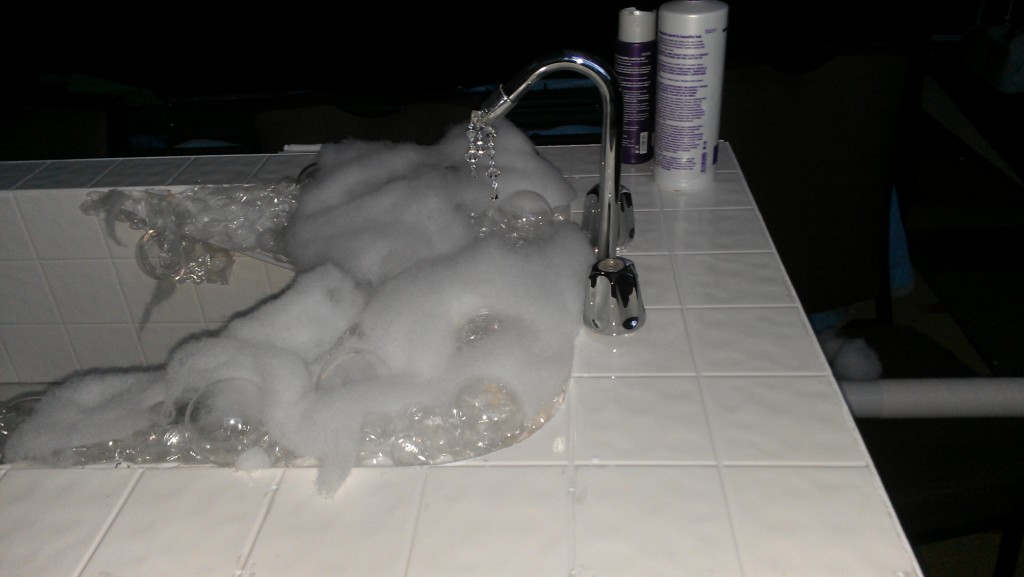 Lady Gaga alternately lay in the bathtub and stood up to dance while her entourage carried her to the stage. Carlos made it sturdy and ultra-light.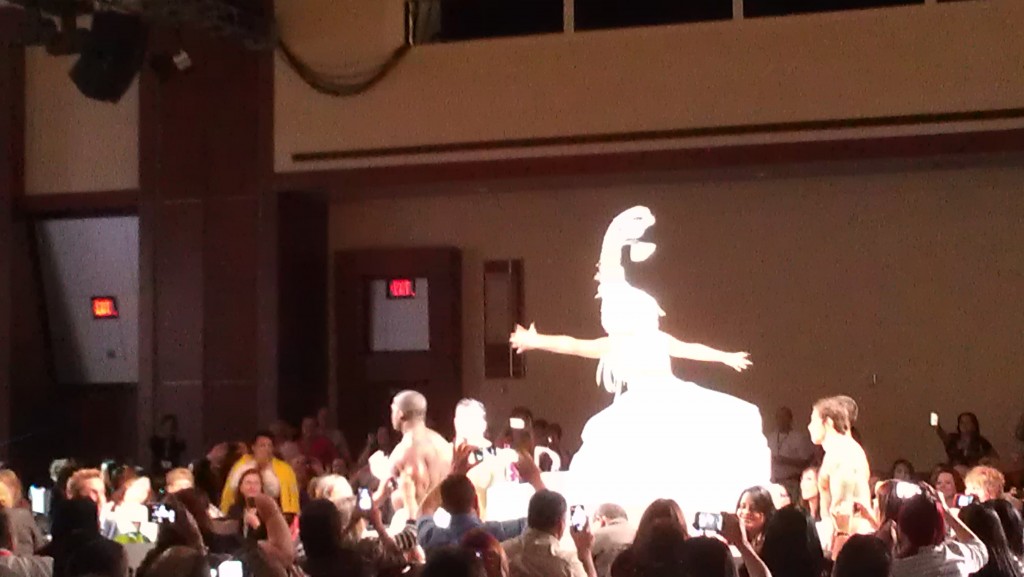 My phone camera literally could not handle the awesomeness. Below, you can see a man in the center right attempting to shield himself from the glare of fabulous. My camera simply cut Lady Gaga out of the picture and left a blank spot where she had been to stave off implosion.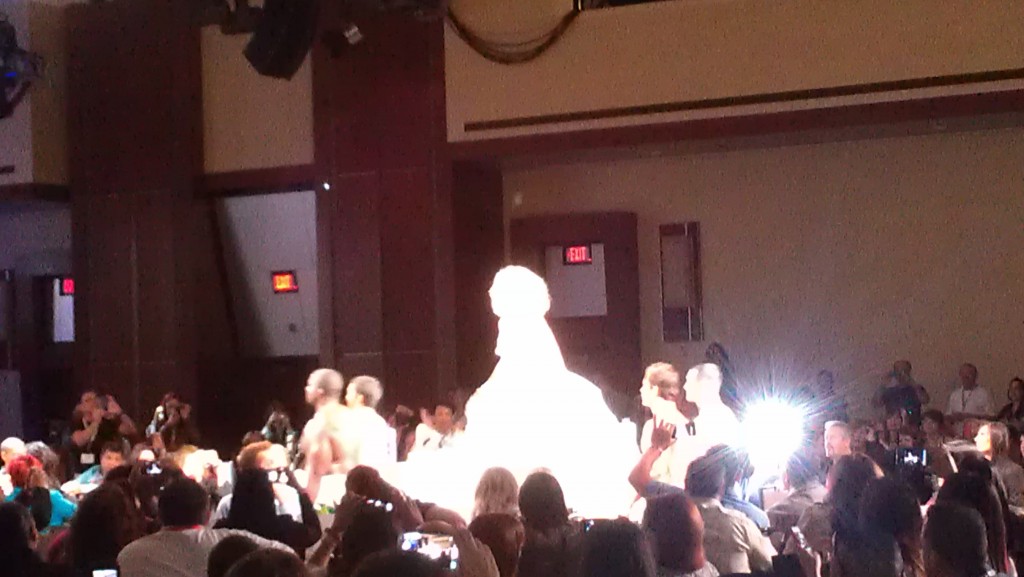 So much better than the dress rehearsal: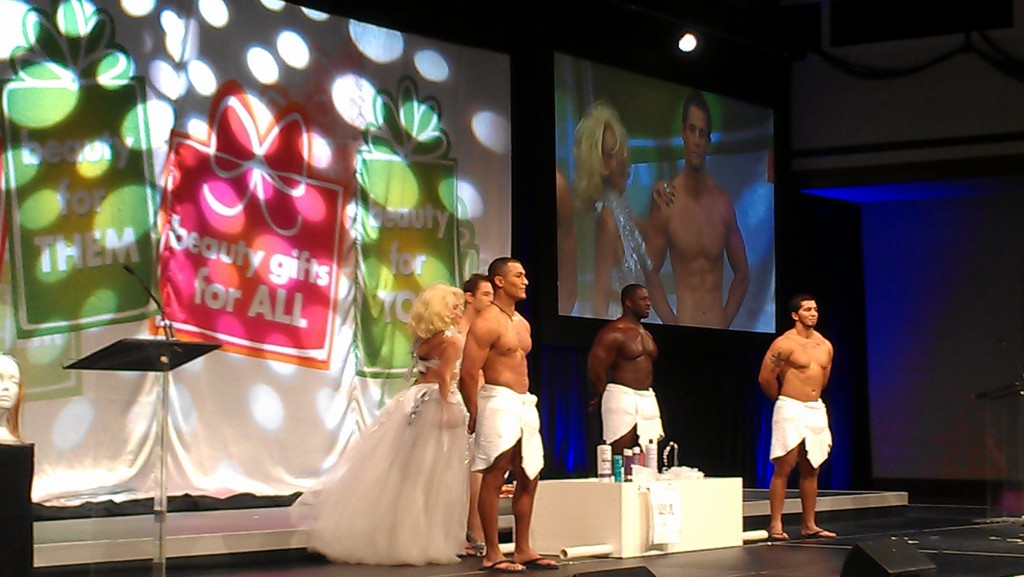 The bags came out to dance for the finale.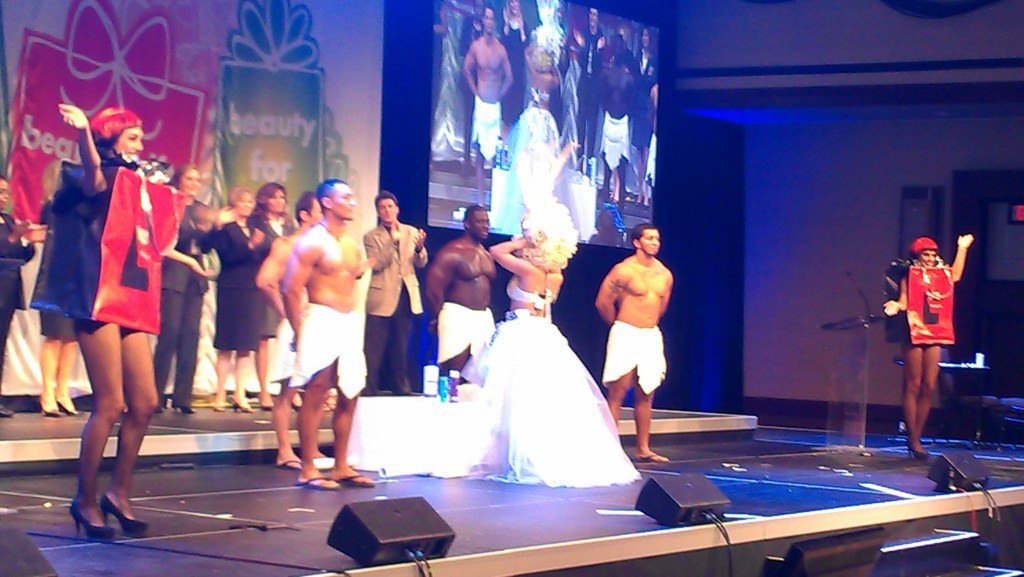 After the show, Lady Gaga came up with the idea of mingling with the crowd.
Encouraging Sally's people to show their teeth: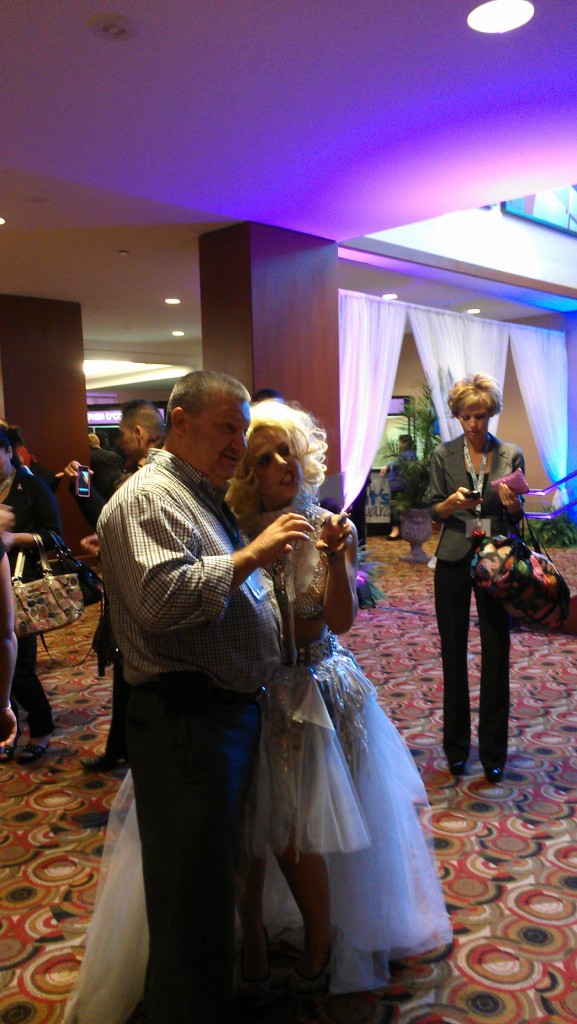 Doing a Harpo Marx impression (what? wrong generation?):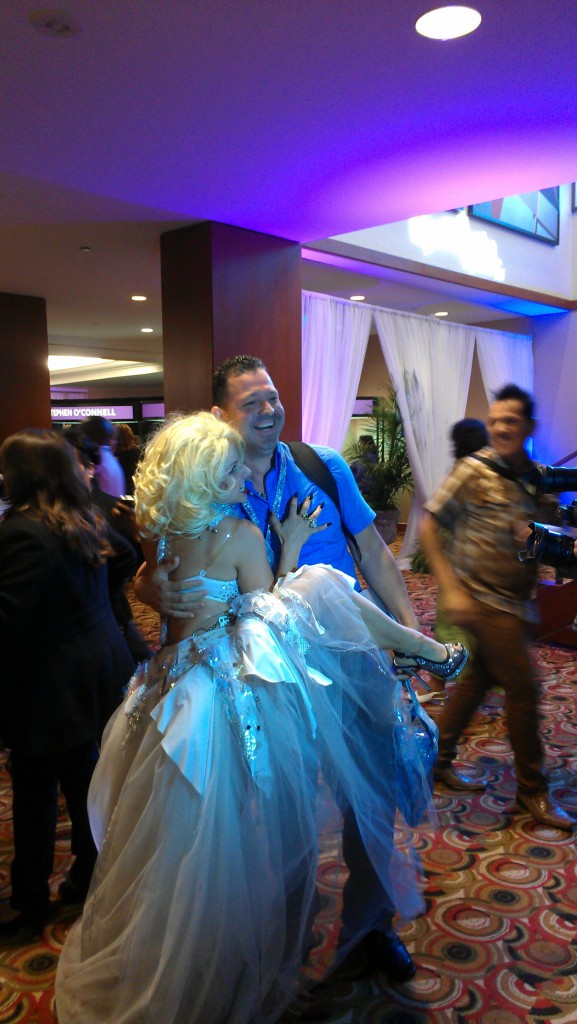 I think someone said this was the president, but I don't want to repeat that without either verification or a wishy-washy "I think" to remove responsibility for faulty information.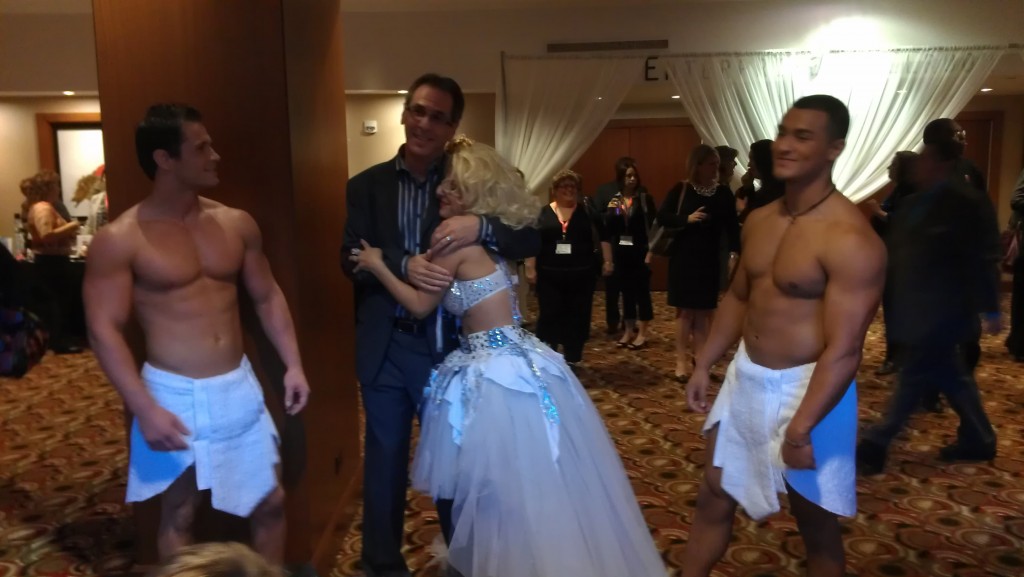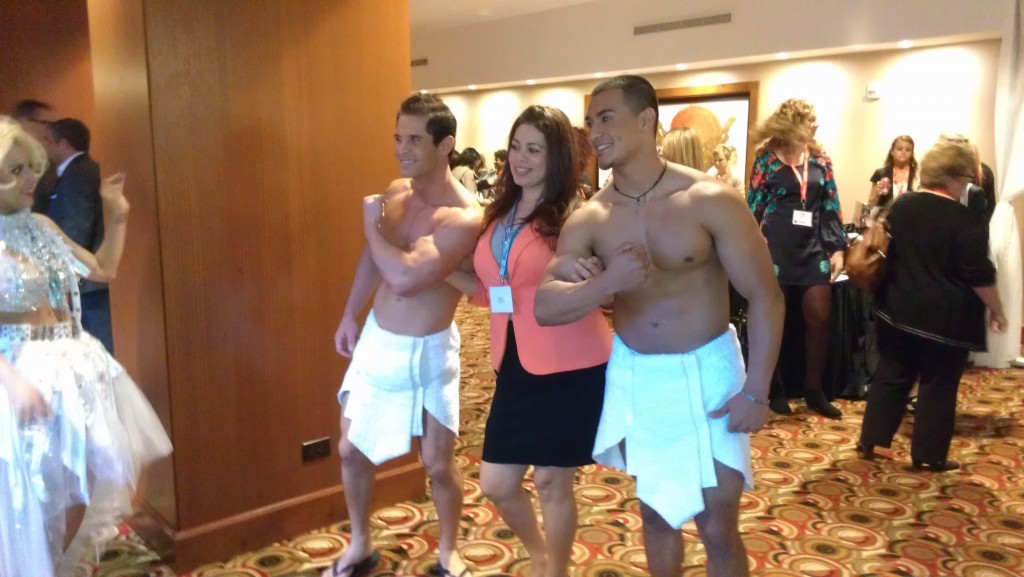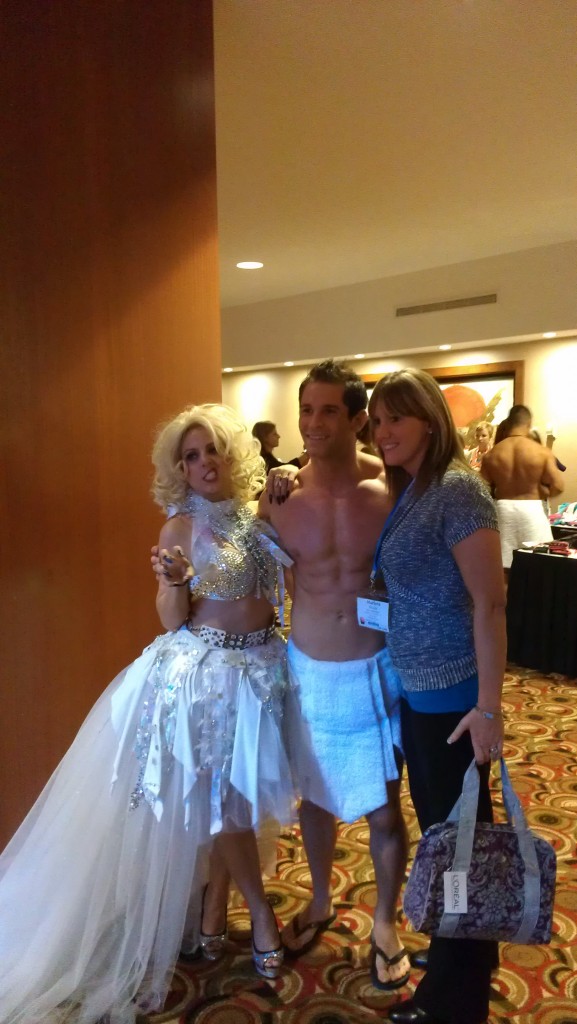 To see the rest of the pictures I didn't include in this post and also didn't delete for being too blurry or too poorly lit, go here.