Late last fall, when we realized that Dallas winters are indeed cold enough for a full-on coat, I convinced D. to go shopping for winterwear. We found a fantastic, versatile, and handsome black pea coat that in warmer months he left in his unlocked car. Which was later broken into at the same time that a neighbor discovered guns, laptops, and electronic equipment gone. But since he hadn't been wearing it, he only noticed that some minor items were missing, and didn't realize the coat had been in there until after making a statement to the police.
Eventually the meth addict next door was found with the stolen guns and computers. Apparently, the coat was mentioned on the police report and viewed by the owner of the serious property, but since it wasn't on record as belonging to anyone, the coat was transferred to evidence and is now gone for good.
It is discontinued and not to be found anywhere online. So I have been commissioned to make a replacement.
D. is a T-shirt and jeans guy, so I hadn't expected there to be much of anything I could make him that wouldn't just soak in its own sentimental value in the back of his closet. Between that and my interest in getting more into menswear, I decided to go all out.
I started with sitting down at Joann's and trying to find a pattern in the unisex, I mean menswear, sections in the pattern books. The seventeen different scrubs patterns seem like a step in the wrong direction from T-shirt and jeans.
Burda has a limited selection of pretty good stuff.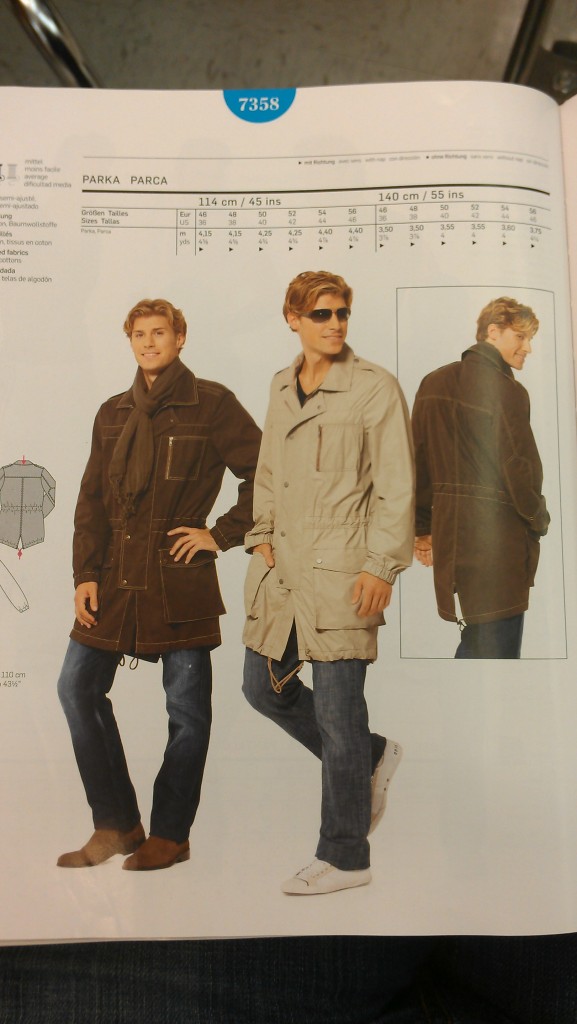 However, this was the only coat pattern that jumped out at me, and it wasn't in stock. It's shapeless and has that internal drawstring belt that only a mother could love or want to use. (I mean that literally, and the phrase "It's colder than it feels" springs to mind.) Actually, this is a man who is being forced to wear his mom's jacket because he thought he was too cool to bring his own on the family vacation. Now if he doesn't wear his mom's extra coat she always keeps in the trunk next to the emergency blanket, flares, and two spare tires, he's going to hear about it for every minute of their walk through the Potholders-of-the-World Outdoor Exhibit. Does that smile look real to you? Noo-ooo. He is embarrassed. And possibly constipated.
So this one's okay, and I figured maybe I could find some pictures of real men's jackets online then modify it to look less unappealing. But both of the nearby Joann's were out of stock, so I started searching the interwebs for other menswear patterns.
After several hours, I came across this article an and thought I had found it at last:
http://malepatternboldness.blogspot.com/2011/04/awesome-new-mens-patterns.html
I was so excited to see images of men wearing clothes that looked natural instead of like a gay man's first fashion foray out of the closet before he remembers he's supposed to try to look good instead of just different
I started to suspect something was up when I couldn't find any references for sources even as I continued reading. My first fear was that he had found these things and then planned to keep the info to himself. Still, I thought it was hope that there was something out there somewhere, even if this guy turned out to be a jerk.
Alas, no, he's not a jerk, he's just yet another victim of the dearth of menswear patterns. I even considered sending away for revolutionary war period coat costumes and modifying out the epaulets and so forth.
Anyway, I did find an awesome sewing blog written by a man, which is always exciting to come across.
I kept thinking about getting ahold of some of the clothes that have been coming out of Korea over the past few years. They have really mastered a style that is deceptively simple at first glance, but has a lot of subtle complexity. And at last I found my menswear patterns.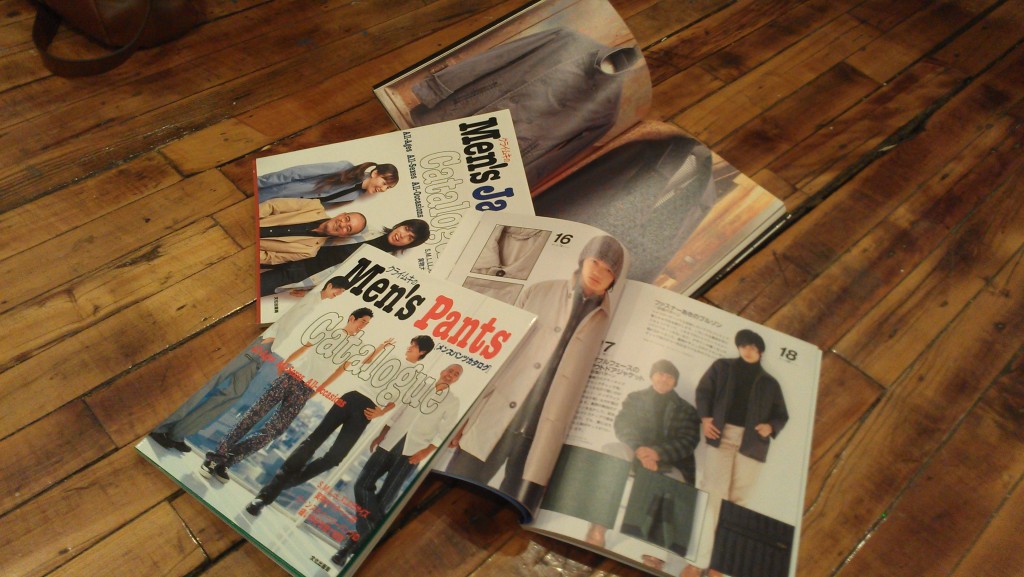 YesAsia! carries quite a few sewing books. No pictures of the inside, though; I did separate searches on each promising-looking book and found images of the insides on etsy and amazon, then ordered the lot of them together through YesAsia!
I got the pants, jackets, and shirts of one series, and a coat collection from another designer. A lot of these actually look like clothes a man would actually wear. A few of the pants are a little reminiscent of Hammer Time, but it looks like that's just the fabric choice.
They're not in English, but they have a lot of illustrations. Not for beginners, but then again, menswear in general isn't.