Tag Archives:
fashion designer
I want this grandpa:
Full article here:
http://shine.yahoo.com/the-thread/grandfather-in-china-finds-fame-as–female–fashion-model-233322437.html
I came across this this morning: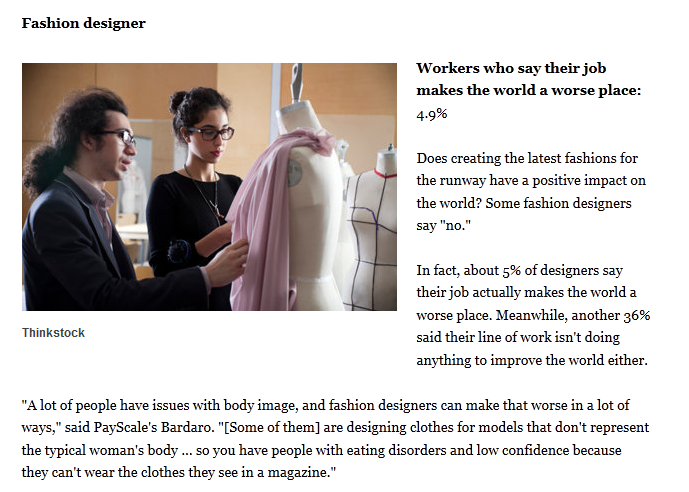 An article on yahoo about people who think that their jobs make the world a worse place. (Topping the list percentage-wise was fast food workers; yes, they know.)
Who said fashion designers had to hurt people's body image? You're doing it wrong. Clothes, done right, should help people feel better about how they look. Yeah, I know, a lot of fashion designers don't see it that way. Watching Project Runway challenges in which the designers have to make something nice for a "real person" (cause skinny people aren't really people, right?), they whine in the sewing room, and half the time they come up with something that would only be flattering on a thin person and apparently decide it just doesn't matter how someone over size 8 looks in their clothes.
It's easier to sew for the "ideal" body shape because if you put a burlap sack on a beautiful girl, she makes the burlap sack look beautiful, too. That's why fashion shows can get away with outfits that look straight out of Zoolander's Derelicte show. I knew a fashion student once who complained about how expensive it was to make the outfits for her classes; she was buying yards and yards of gorgeous $12/yd fabrics. I directed her to the discount table where things could go for $1-2/yd. "Yeah, but this is prettier."
I always think of the line in Just Shoot Me, where the photographer is going on about how good of a job he does on the photos and David Spade's character says, "Oh, yeah – you're a genius. You took a picture of one of the hottest women in the world and somehow made her look beautiful. What's your secret – are you using some kind of film?"
Just about anyone with a sewing machine can make expensive fabric look at least passable. Just about anyone with a size 8 knockout can make her look great. Fashion designers who think they're making the world a worse place are just stuck being lazy. Go into Lane Bryant and make something that doesn't look horrifying. Millions of women's lives and self-images will be better for it.